Hallmark Stamp Issues
The Hallmark Group - World Specialists in Historic Commemorative Stamp Issues in Precious Metals. For over 25 years the Hallmark group has collaborated with government to celebrate important national events. Historic postage stamps are re-created as a series of exquisitely engraved ingots, flawlessly minted in solid silver and plated in pure gold.

Back to Products
The 80th Birthday Anniversary of
H.M. King Bhumibol Adulyadej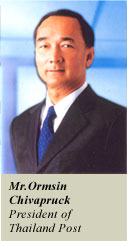 Introduced to you by Mr.Ormsin Chivapruck

For eighty years the life and work of His Majesty the King have been faithfully recorded on our nation's postage stamps. The King's childhood and early manhood, His hobbies and scientific interests, The Royal Family and the King's manifest love and concern for the Thai people, all are captured in timeless images that are familiar to everyone.

For more information please visit the web site link below
www.thegoldstamp.com
Official Licensed Product of