Back to Products
The Spirit of Discovery
Introduction by The Right Honourable
Roland Michener,
P.C., C.C., C.M.M., C.D., Q.C.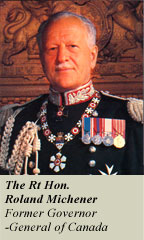 In these years when Canadians are remembering the first exploration of the lower St.Lawrence (now Quebec) by Jacques Cartier, the coming of the United Empire Loyalist, and other significant anniversaries in Canada's history, my wife and I join in welcoming the Canadian Collection.
It is a work of art, a relevant collection of 25 of the finest historic Canadian postage stamps, beautifully engraved in solid sterling silver by Canadian Silver Engravers.
Included with each set is a specially bound edition of "From Sea Unto Sea", J.C.W. Armstrong's collection of early maps of discovery and exploration in what is now Canada.
The Collection commemorates the discovery of Canada, its waterways, lands, forest, mountains, and what lies in and beyond them, discoveries which make it possible to bring together a vast territory in which settlements of native peoples and newcomers have grown and prospered, and in which a country of two languages and many origins has been confedered as a parliamentary democracy under the British Monarchy - our Queens and Kings, from Victoria to Her Majesty Queen Elizabeth II, are well portrayed in the engraved stamps.
Los 10 sellos y 2 billetes de papel moneda, mostrados en estas paginas y que integran los originales de la exclusiva coleccion Valores Reales, han sido seleccionados entre los existentes en los archivos de Correos y el Banco de España, asi como de colecciones particulares.

La Direccion General de Correos entregara la primera coleccion acuñada a Su Majestad el Rey D. Juan os de l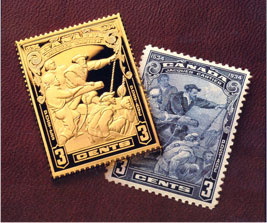 3 cent Jacques Cartier 400th Commemorative – 1934
450 years ago Jacques Cartier set sail from France "to discover certain islands and countries where it is said he should find a great quantity of gold..." This quest for the fabled riches of America led him to the St. Lawrence river and the discovery of Canada. Cartier's explorations along the coast of New Brunswick resulted in the historic encounter with the Micmac Indian tribe. It marked the beginning of the fur trade and the settlement of what he called "Kanata", the Indian word for village.
15 cent Queen Victoria – 1868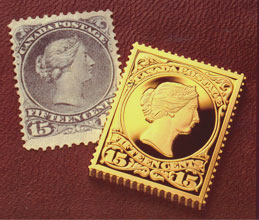 Queen Victoria ruled during an era in Canadian history in which the dreams and spirit of discovery were monumentally realized. A century ago, during her reign, the great new railway linking Canada from sea to sea was completed, possibly the single most important creator of national unity and wealth. The 15 cent Queen Victorian was the highest denomination of the first stamps issued by the newly confederated Dominion of Canada.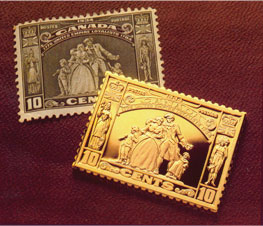 10 cent United Empire Loyalists 150th Commemorative – 1934

The heroic migration of the Empire Loyalists two hundred years ago, one of the major events in our history, ensured that Canada had a separate national identity after the massive upheaval of the American War of Independence.
The family group on the commemorative stamp, dressed in the revolutionary costume of the time, was inspired by the Loyalist statue in Hamilton, Ontario.
Leather Presentation Case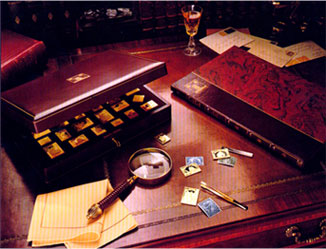 To protect and display the Collection, each set is provided with a lockable gold-embossed leather case lined in rich velvet. A handmade horn lifting spatula is inset into the case.

From Sea Unto Sea
To accompany the collection, From Sea Unto Sea by J.C.W Armstrong, has been specially produced in conjunction with the publisher, Lester & Orpen Dennys.
This superb folio book contains reproductions of 38 art and discovery maps of Canada vividly depicting the emergence of a nation from the unchartered wilderness as portrayed by the discoverers themselves. The book has been quarter bound in matching claret coloured leather with raised spine bindings and hand tooled gold leaf titles.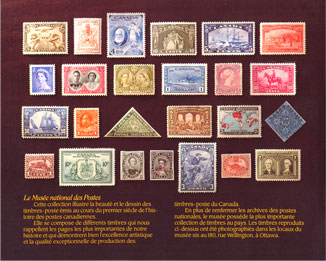 A numbered Certificate of Authenticity and a full-colour layout guide of reproductions of the original postage stamps complete the issue.
Click on the image to view an enlarged layout