Back to Products
The Spirit of a Nation – Two Centuries of Achievement
Introduction by The Rt Hon. Sir Zelman Cowen
A.K., G.C.M.G., G.C.V.O., Q.C., D.C.L.
Governor-General of Australia 1977-1982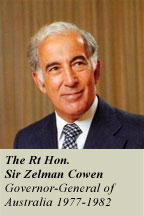 1988 is an important and historic year for Australia and Australians. It marks the two hundredth anniversary of European settlement of the continent state. With the arrival of the first fleet in Sydney Cove in January 1788, a small, predominantly convict settlement secured a precarious foothold. One hundred years later, Australia was on the verge of establishing a national entity out of six, vigorous, self-governing colonies. As we approach the second hundredth anniversary, we are, and have long been, an independent, democratic state, a member of the Commonwealth of Nations and of the world community. We have our problems, but we are strong in material and human resources.
The selected stamps portray famous Austrlains and persons intimately associated with Australia: monarchs, explorers, political leaders, a poet and a renowned singer. Others remind us of great events, of the nation's participation in the two World Wars, of achievements in technology, of responses to the problems of distance and isolation in a vast continent. They certanly reveal our love of sports. I think that they give a very good representation of the spirit of our nation and its achievements.
Los 10 sellos y 2 billetes de papel moneda, mostrados en estas paginas y que integran los originales de la exclusiva coleccion Valores Reales, han sido seleccionados entre los existentes en los archivos de Correos y el Banco de España, asi como de colecciones particulares.

La Direccion General de Correos entregara la primera coleccion acuñada a Su Majestad el Rey D. Juan os de l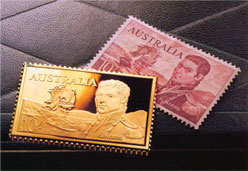 The Romance of Exploration

Matthew Flinders, a born adventurer, arrived in the tiny colony at Port Jackson in September 1795 and began a series of voyages, in leaky and indifferent vessels, that were to make him an historical giant.

With Bass, he sailed around Tasmania, proving it to be an island. Later, as Commander of Investigator, he was comissioned to chart the mainland coast. He sailed north and reached the Gulf before his deteriorating ship forced a return – which he made via the western coast, completing the first circumnavigation.
As well as defining an island continent, he suggested Australia as its name. The replica shown is from a series of six stamps depicting our early navigators.

Settlement of a Nation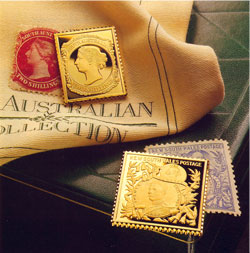 It began as a handful of settlers on the edge of an inconceivable vastness. It was, in fact, the world's only island continent, and they were to become the pioneers of a proud and independent country.
This 1867 South Australian stamp featured the profile of Queen Victoria – a design that persisted, with variations, for 46 years in that state. The plates were made in London by the printers of the famous 'Penny Black'.
In response to an idea from a local philatelic society, New South Wales issued the world's first commemorative stamp. It marked the centenary of Captain Arthur Phillip's arrival at Port Jackson. Now, two centuries after his historic landing, this evocative stamp is struck in precious metals.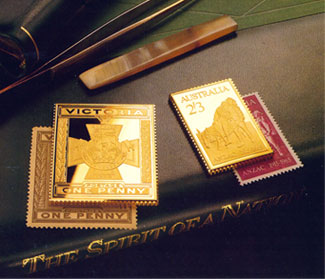 Patriots and the Flag

The 1900 Victoria Cross charity stamp was sold for more than face value with the balance going to the Boer War patriotic fund. The design was based on the Victorian flag – a red cross bearing a central gold lion. The famous medal for valour was awarded to six Australians in the South African campaign.
John Simpson, 'the man with the donkey', became a Gallipoli immortal, rescuing hundreds of wounded ANZACs under heavy fire. The 1965 stamp, based on the statue at Melbourne's Shrine of Remembrance, commemorates the 50th anniversary of the ANZACs landing. Simpson was shot dead by the Turks, but his courage endures.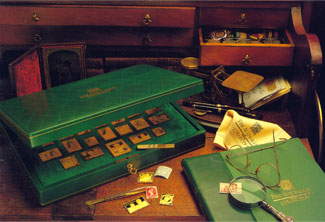 To protect and display the Collection, each set is provided with a lockable gold-embossed leather case inlaid with velvet. A handmade horn lifting spatula is inset into the case.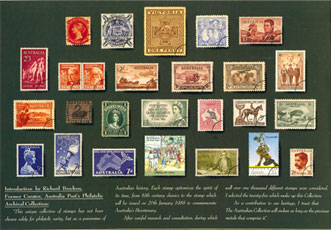 A numbered Certificate of Authenticity and a full-colour layout guide of reproductions of the original postage stamps complete the issue.
Click on the image to view an enlarged layout