Hallmark Stamp Issues
The Hallmark Group - World Specialists in Historic Commemorative Stamp Issues in Precious Metals. For over 25 years the Hallmark group has collaborated with government to celebrate important national events. Historic postage stamps are re-created as a series of exquisitely engraved ingots, flawlessly minted in solid silver and plated in pure gold.

Back to Products
The Lunar New Year Collection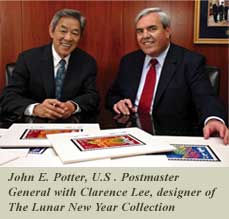 This remarkable collection is the culmination of 12-years work by the renowned Chinese-American artist, Clarence Lee. All 12 celebrated Lunar New Year stamps issued by the United States Postal Service from 1992 to 2004 have been exquisitely engraved in solid silver, plated with 24 karat gold. The Lunar New Year Collection is issued in honor of an ancient culture, and to celebrate a thriving, modern tradition.
For more information please visit web site link www.lunarcollection.com
Official Licensed Product of