Hallmark Stamp Issues
The Hallmark Group - World Specialists in Historic Commemorative Stamp Issues in Precious Metals. For over 25 years the Hallmark group has collaborated with government to celebrate important national events. Historic postage stamps are re-created as a series of exquisitely engraved ingots, flawlessly minted in solid silver and plated in pure gold.

Back to Products
The Golden Jubilee – 50 Glorious Years of Nationhood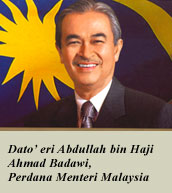 In celebration of Malaysia's 50th year of independence, it gives me great pleasure to present to you "The Golden Jubilee Collection". The collection comprises of an illustration of three of Malaysia's historic and significant postage stamps depicting the country's achievements minted in 999.9 pure gold stamp ingots. Only 5,000 sets will be made available worldwide. Each ingot will be identical to its original stamp in size and 1.8mm thick. Each stamp has been carefully chosen to commemorate Malaysia's 50th year of nationhood.
Los 10 sellos y 2 billetes de papel moneda, mostrados en estas paginas y que integran los originales de la exclusiva coleccion Valores Reales, han sido seleccionados entre los existentes en los archivos de Correos y el Banco de España, asi como de colecciones particulares.

La Direccion General de Correos entregara la primera coleccion acuñada a Su Majestad el Rey D. Juan os de l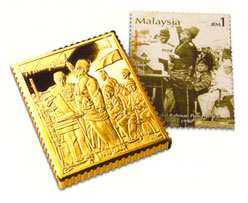 The Enduring Spirit of Freedom
The first stamp in this unique collection portrays the symbolic gesture of "Merdeka!" by the man that every Malaysian, young or old, affectionately refers to as "Bapa Kemerdekaan", the Father of Independence. Tunku Abdul Rahman Putra Al Haj was the first Prime Minister of Malaysia and was responsible for leading delegation after delegation to London seeking the nation's independence.
Forging a United Nation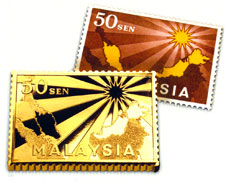 In 1961, Tunku Abdul Rahman proposed the idea of forming "The Federation of Malaysia", to consist of the Federation of Malaya, together with Sabah, Sarawak, Singapore and Brunei, all of which were at one time British Crown Colonies. On 16 September 1963 The Federation of Malaysia was formed, including Sabah, Sarawak and Singapore, with Brunei deciding against it. Singapore also later withdrew, seeking its own independence. Nevertheless, Sabah and Sarawak have remained as integral parts of Malaysia till today and have been valuable contributers to the nation's economy and growth for the past five decades. That is exactly why the two largest states in Malaysia are captured on our second stamp as the final piece
in the jigsaw of an independent Malaysia.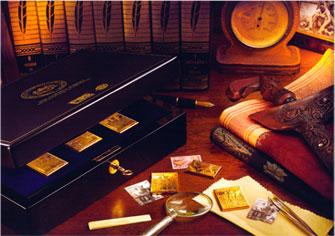 Official Licensed Product of