Back to Products
The Road to a Golden Future Immortalising Malaysia's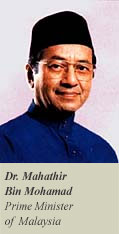 shining successes.
Introduction by Dr. Mahathir Bin Mohamad,
Prime Minister of Malaysia
Someone said that a country's history is only as rich and as a colourful as its people. Given our rich cultural heritage and our distinctly unique multi-racial community, Malaysia's story of progress is more than enough to do
everyone proud.
Glimpses through the pages of time will help us empathize with our forefathers as they lived their lives fueled by the fire of nationalism. We will discover that there are three main periods which stand out. Marvel at our people's first stirrings of patriotism during the colonial era. Fell their fervour as they marched to their Idependence Day rites, their shouts of "Merdeka" echoing their victorious pride. Experience this same nationalistic pride today as Malaysia gears itself up for 1998 when the country will be hosting the Kuala Lumpar 98 - XVI Commonwealth Games and other international events that will unmistakably earn a place for us in the minds and hearts of people the world over.
It is to celebrate these events that our country's shining moments have been captured by this collection. The Malaysian collection dramatizes these precious moments via postage stamps and preserves them for posterity in beautiful minted pieces. Let it be a celebration, commemorating the country's triumph all the way to 1998 when the whole world will look at Malaysia, its accomplishments and its progress.
This effort is a fitting tribute to the tribulations and triumphs of Malaysians.
I believe it will be a family heirloom you can pass on from
generation to generation.
This Issue comprises 30 gold-plated pure silver ingots of historic Malaysian postage stamps. They are a powerful and evocative series of images recording the triumphant development of the Malaysian Nation, from Independence to the honour of hosting the XVI Commonwealth Games in Kuala Lumpur in 1998.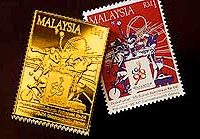 This 'Kuala Lumpur 98' ingot captures dramatically
the dynamism and competitive spirit of Malaysia today: fiery and confident with a strong determination to win.

The original stamp artwork has been flawlessly re-created by internationally recognised master engravers. Each ingot is minted in 2.2mm-thick pure silver and plated with 999.9 gold.

Minted in Switzerland, the reverse of each ingot carries the Malaysian Postal Service logo and maker's marks, certifying the silver content and purity of the gold used in plating.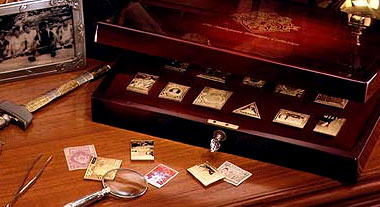 A handsome, lockable, Collector's Box displays and protects the issue. Inset into the box is a horn spatula for handling the ingots and a jeweller's cloth to help care for them.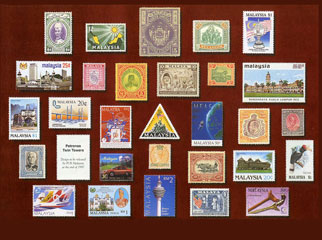 A numbered Certificate of Authenticity and a full-colour layout guide of reproductions of the original postage stamps complete the Issue.
Click on the image to view an enlarged layout.