Hallmark Stamp Issues
The Hallmark Group - World Specialists in Historic Commemorative Stamp Issues in Precious Metals. For over 25 years the Hallmark group has collaborated with government to celebrate important national events. Historic postage stamps are re-created as a series of exquisitely engraved ingots, flawlessly minted in solid silver and plated in pure gold.

Back to Products
The American Presidents Collection.
Introduced to you by George H.W. Bush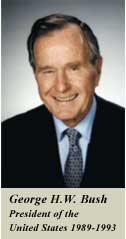 For more than 200 years, the United States Postal Service has honoured each American Presidents on an official postage stamp and the United States Mint has celebrated each President on an official Presidential Medal. This remarkable issue includes 25 Presidential stamp replicas and official medals as solid silver ingots layered with pure 24-karat gold, to create a unique tribute to the American Presidents.
For more information and to read President Bush's introduction please visit web site link below
www.thepresidentscollection.com