Back to Products
United We Stand - The Journey To Nationhood
Introduction by Ong Teng Cheong,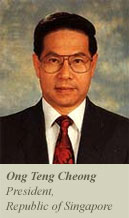 President of the Republic of Singapore
As one who has been priviliged to be involved in the life of modern Singapore, 1995 is, to me, a particularly significant year. It marks the thirtieth anniversary of Singapore's independence and my second year in office as her President.
Looking at the Singapore of today, I can understand why much of our younger generation perhaps finds it hard to conceive of the enormous human endeavour and vision our journey to nationhood has required.
Geographically, Singapore is one of the smallest nations on earth and we have little in the way of natural resources. As a nation, we have overcome what to many appeared to be insurmountable odds.
Yet we have not merely survived, we have succeeded to an
extent few thought possible.
I believe it has been the sheer will, dedication and camaraderie of our multicultural people that has brought us to where we are today, and I further believe that our history confirms this fact. This unique story, which our country's postage stamps tell so well, is one in
which we can all take great pride.
That is why I am pleased to introduce "United We Stand, The Singapore Collection." The images it preserves in precious metals will, I am sure, bring a sense of both history and achievement of all Singaporeans.
Superbly minted in gold-plated sterling silver, the thirty ingots in this Collection serve as a permanent reminder to us all that the road to success, though long and hard, has been well worth taking.
I personally will cherish my Collection, and hope that my children, and theirs too, will see that it is passed down from generation to generation, along with the story it tells."
The Singapore Issue, comprises 30 pure gold-plated solid sterling silver ingots of historic postage stamps. One for each of the first 30 years of Singapore's Independence. The glorious images chart the key stages of the journey from colony to becoming one of the world's most successful modern city nation states.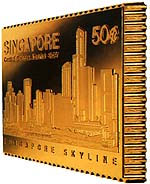 This City Skyline ingot stylishly captures the success of modern Singapore, one of the great cosmopolitan cities of the world.

The original stamp artwork has been flawlessly re-created by internationally recognised master engravers. Each ingot is minted in 2.2mm-thick solid sterling silver and plated with pure gold.

Minted in Switzerland, the reverse of each ingot carries the Singapore Philatelic Museum logo and maker's marks, certifying the silver content and the purity of the gold used in plating.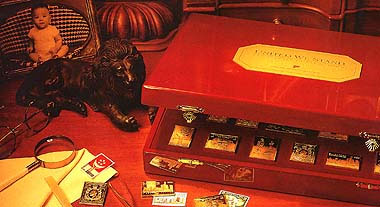 A handsome, lockable, Collector's Box displays and protects the issue. Inset into the box is a horn spatula for handling the ingots and a jeweller's cloth to help care for them.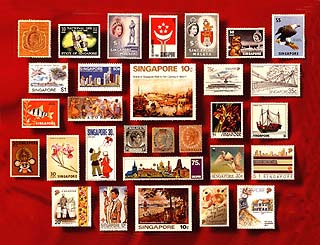 A numbered Certificate of Authenticity and a full-colour layout guide of reproductions of the original postage stamps complete the issue.

Click on the image to view an enlarged layout.
Hallmark Singapore
103 Boon Keng Road
#05-05, Singapore 339774
Tel: 6282 2232
Fax: 6282 1822