Hallmark Stamp Issues
The Hallmark Group - World Specialists in Historic Commemorative Stamp Issues in Precious Metals. For over 25 years the Hallmark group has collaborated with government to celebrate important national events. Historic postage stamps are re-created as a series of exquisitely engraved ingots, flawlessly minted in solid silver and plated in pure gold.

Back to Products
United We Stand Collection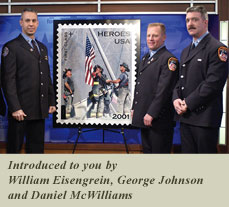 The United We Stand Collection reflects the strong American tradition of standing together in times of trial. 25 of the most famous U.S. stamps have been carefully selected to pay homage to the men and women who created the United States of America. Each set of engraved silver stamps, plated with 24-karat gold, is an enduring record of heroic achievement and service to the nation.
For more information please visit web site
www.unitedwestandcollection.com
Official Licensed Product of