Hallmark Stamp Issues
The Hallmark Group - World Specialists in Historic Commemorative Stamp Issues in Precious Metals. For over 25 years the Hallmark group has collaborated with government to celebrate important national events. Historic postage stamps are re-created as a series of exquisitely engraved ingots, flawlessly minted in solid silver and plated in pure gold.

Back to Products
The Korean Collection
Introduced to you by Young-Bo Koo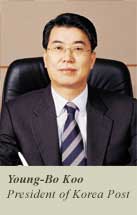 Following the outstanding success of the World Cup in 2002, Korea Post has authorised the minting of 25 stamp ingots celebrating the culture and achievements of South Korea since the foundation of the Republic. Struck in solid silver, and plated with 24-karat gold, the Korean Collection marks an unprecedented event in Korean philately, to be prized by generations to come.
For more information please visit web site link below